Want to increase your YouTube views using Facebook? Who doesn't?
Today I'll share some tactics that will lead you to more views than you were getting earlier.
Overview of what you'll learn from this article:
Reason for getting less reach/YouTube traffic from Facebook
How to share your YouTube videos on Facebook to get the most?
[irp posts="9″ name="The Best Low Budget Lapel Microphones for Indian YouTubers"]
Reason For Getting Less YouTube Traffic/Views From Facebook
We all know YouTube is the largest video sharing social platform. It's a multi-billion dollar company. Even Creators make millions of bucks from it every single month.
And this brings in a lot of competition.
Not only for you but for them too. While we (YouTube Creators) compete for views. Other services like Vimeo, Dailymotion etc. try to compete with YouTube.
Facebook is also one of those competitors. They recently started a new feature known as Facebook Watch. There's also a beta campaign going on called Facebook for Creators. Which exactly works like YouTube.
Now you might ask me, "Hey Bishnu, That's nice but why are you telling this? How it affects my YouTube views?"
The answer is simple. It's the most crucial point to know when you are trying to get more YouTube views from Facebook.
Have you ever heard that they decrease the reach of YouTube links posted on Facebook? It's true!
Why do they do it? "Competition".
They also regulate the reach of 'Photo/Video posts' higher than the 'Link posts' on Facebook. This is also a reason to get less YouTube traffic from there. (but it's not the only one).
Have you noticed? Whenever you share a YouTube video link on Facebook it generates a tiny little thumbnail for it. Making it less visible.
It's obvious why they are doing it. Their revenue model works with advertising when people spend their time on Facebook. So they don't want their users to jump over to YouTube.
But still, there are some tactics you can use to generate more YouTube views and traffic from Facebook.
[irp posts="55″ name="How to Create New or Multiple YouTube Channels under One Google Account?"]
How To Share YouTube Videos For More Audience Reach On Facebook?
There can be many ways to do it but here I'll share 4 tactics that you can use to get the most out of Facebook.
1. Share As A Video Post On Your Website And Link To It
This would be my first advice to you as it looks better than any other methods. All you do is embed your YouTube videos on your blog/website and share the link.
But the important thing to consider here is that you should use the Facebook Open Graph metadata.
WordPress users can choose the post format as video and most of the theme will add the metadata for you. If you don't know how to embed your YouTube videos on WordPress learn here.
And if you don't have a video format option on your site consult a developer and ask to create it. Don't forget to ask them to configure the Facebook Open Graph for your site.
In case you are a developer here is how the code looks like: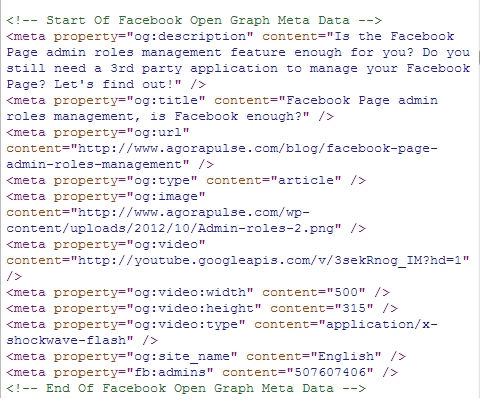 By using the Open Graph and a good thumbnail for the video, it can wonder for you. See the example screenshot provided by Social Media Examiner: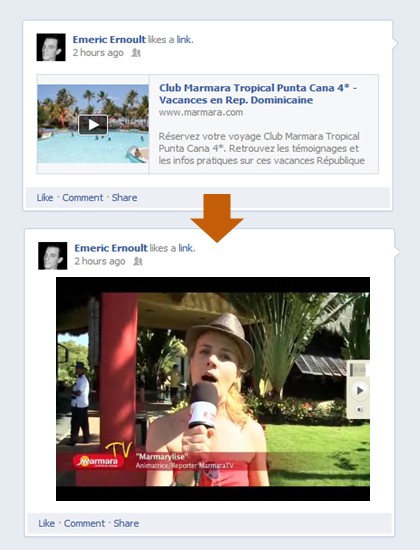 You can see the difference above.
A big and good thumbnail of a video will definitely urge the viewers to click on it.
Use this method and you'll be generating more YouTube views and engagement.
[irp]
2. Make A Teaser Of The Video And Upload To Facebook
If possible and you have time to do it make a teaser of your original video and upload it to Facebook. As you'll upload the video on Facebook, it will get better reach and engagement.
Make sure to insert the original YouTube video link on the description of the video.  You can also add a call to action in the teaser to make them click on the link and watch the complete video.
3. Share With A Large Image And Link In The Description
This is the very simple method that anyone can do. Get a large good thumbnail/image for your video and share it on Facebook. Mention your YouTube link in the description. That's it.
Don't believe me, do it and see the result. It's way better than the normal YouTube link sharing.
4. Use Third-Party Tools/Website To Embed The Video
This one is my last recommendation for you. This method also has an option to play your video directly on Facebook. It was working earlier but it doesn't work anymore.
The video will not play on Facebook but still, you will get a link configured with Facebook Open Graph metadata. Like the method 1 above.
The only disadvantage of this method is that it doesn't look official as you will share the third-party URL.
To use this tactic go to https://yt2fb.com
Paste your YouTube video link in the text box.
Now Click on PRO Toolbox
The website also shows you the preview of how your post will look like on Facebook. Check the before and after the result on the screenshot above.
By clicking on PRO Toolbox you can adjust setting like the headline, description & thumbnail.
This tool is completely free but you need to sign up for an account if you want to change those settings.
When you are ready with the settings, click on "create link" button to generate the shareable link.
It will generate a link for you like the screenshot below. Copy the link and share it on Facebook. That's it.
Here's how it looks on Facebook:
Note: This result can also be achieved using method 1 i.e., your own website. Use this option only if you don't want to deal with coding or can't hire a developer. Also, if you using any premium themes, you may already have this configured.  Try method 1 to find out if it is already enabled for you.
[irp]
A Bonus Tip
Use YouTube Marketing Tools to analyze everything that you need to succeed with your YouTube videos. I recommend you to use TubeBuddy and VidIQ.
Conclusion:
Facebook is competing with YouTube every day, thus also decreases the reach of YouTube links shared on Facebook.
If you'll simply share your YouTube video link on Facebook, You won't get the most out of it. You need to use some tactics that can be more appealing and visual.
In this post above, I have shown you some tactics that you use to make your YouTube link more appealing and visual on Facebook.
Making your YouTube link shared on Facebook more appealing and visual you'll get a lot more views or traffic your YouTube videos.
Do you use any other tactics? Did any tactics help you out?